Schaff Trend Cycle — Indicator Tutorial on Iq Option
---
Schaff Trend Cycle (STC) is an oscillator-type indicator that can help you spot positive and negative trends, identify entry and exit points, as well as give buy and sell signals. You may have a question why it is so special and why you might want to use it in trading? To begin with, it is not difficult to understand. Schaff Trend Cycle is actually your most typical oscillator with a cycle component . Moreover, it was created as a more precise and better version of MACD . Read the all the article in order to learn how to trade using Schaff Trend Cycle and add it to your trading strategies list.

How does it work?
As it was already mentioned above, Schaff Trend Cycle works similarly to MACD. As well it contains of cycles that have a big value to the global financial markets, to make it easier to spot positive and negative tendencies.
Now we will explain how to understand the readings of this indicator. There are two thresholds: one at 25 and the other at 75. When the indicator crosses above the 25 line, an uptrend arises. When the indicator crosses below the 75 line, a downtrend is observed. If the indicator is between the 25 and the 75 lines, it means that the trend is developing in one of the two directions.
When the indicator becomes a straight line (this only happens in its highest and lowest points), the asset can be overbought if it is above the 75 line or it can be oversold if it is below the 25 line. In both cases, a trend reversal can be awaited, but no exact timeline is given.
How to apply in trading?
STC is a very simple indicator, because there are not that many cases when it can be used. Keep in mind that although STC was initially created for Forex trading, it can be productively used in all asset types and all time frames. Here are the examples of how traders commonly use Schaff Trend Cycle.
When the indicator goes higher than the 25 line, the trend is observed to be taking a positive turn (in accordance with the indicator). This is when traders think of opening a buy position, but only if the confirmation is received. You may ask: what is a confirmation? Confirmation is received when a candle after the current one moves in the same direction. Readings of other indicators that go in line with STC can be considered as a confirmation too. The same rules are for the negative trends. When the indicator goes below the 75, some traders think about opening a sell position. Nevertheless, it is really important that you double check the STC readings and any readings of any other indicators.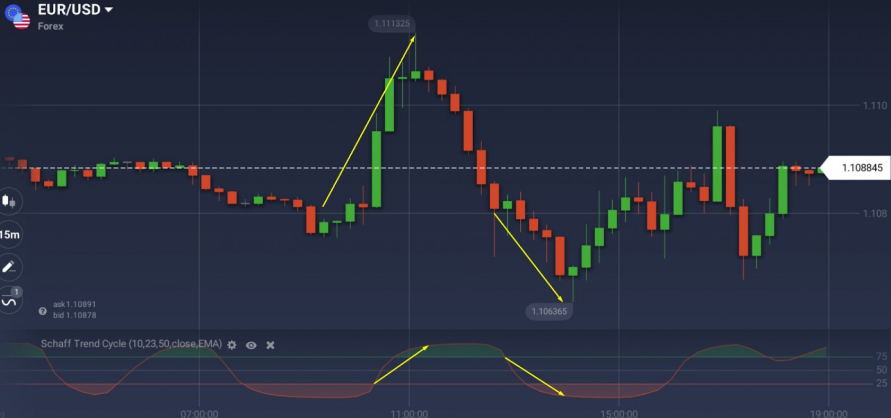 You may ask: what is the the best time to close the deal? Several traders believe that it is when the indicator becomes a straight line because it means that the trend is no longer powerful and a new trend is needed in order to open another trade.
How to set up?
When you work with IQ Option, it is easy to set up the Schaff Trend Cycle indicator. Here is the instruction on how to start using it:
1. Click on the 'Indicators' button in the left bottom corner of the screen and go to the 'Momentum' tab.
2. Select 'Schaff Trend Cycle' from the list of indicators
3. Without changing the default setting click the 'Apply' button. Professional traders can set the settings how it is more comfortable for them but it not recommended for beginners.
You can now use STC indicator!
Final thoughts
Schaff Trend Cycle is a really good oscillator to learn and add to your list of helpful indicators. You have to keep in mind that STC or any other technical analysis tool are not able to provide correct signals all the time. Consequently, it will give false signals sometimes.
STC is a leading indicator and that means that it sends a signal before the price move has arised. Moreover, it means that it doesn't have as good accuracy as lagging indicators have. This is why STC should be used together with other technical analysis tools.
---