---
Risk is one of the most major aspects in IqOption trading. Each investor, regardless of what asset he trades, tries to correctly measure the risk. And this is because risk have a big effect on the result of the trades.
Ulcer Index is a technical analysis indicator on IqOption that helps estimate risk associated with a specific asset on a local level. Keep in mind that no technical analysis indicator is able to estimate fundamental risk. To be more accurate, it estimates downside risk: risk of the decrease in asset price.

If you trade with higher risk on Iq Option, your potential return will be higher, accordingly. For the purpose of understanding this better, let's take a look at the example of the comparison of the behavior of Bitcoin and EUR/USD during 2017 year. On 1 January 2017, an investor could buy 1 BTC for $963. The same Bitcoin could then be sold for $19,758 12 months later. The difference in prices leads to a 1,951% return. Now, think about buying a EUR/USD currency pair and holding it until the end of 2017. On January 1st one Euro was worth $1.0532. At the end of 2017, it was worth $1.2029, which is only 14% percent higher.
Nevertheless, the related risk of Bitcoin is also way more higher than that of EUR/USD. In 1.5 months that followed BTC has then lost more than 60% of its market value. During a 1.5-month-long fall EUR/USD has only lost 9.5% of its value. Consequently, at some point, Bitcoin has offered superior returns but potential buyers lost a big part of their investments as well. Therefore, this was a great example of why you need to know the risk related with the asset you are planning to trade.
How to use?
Because Ulcer Index is a single-line indicator, it is pretty simple to set it up and use it in trading. The Ulcer Index moves up, when the risk of a price decrease is rising and the indicator moves down when the risk of a price decrease is depreciating. There are some ways how you can use this indicator.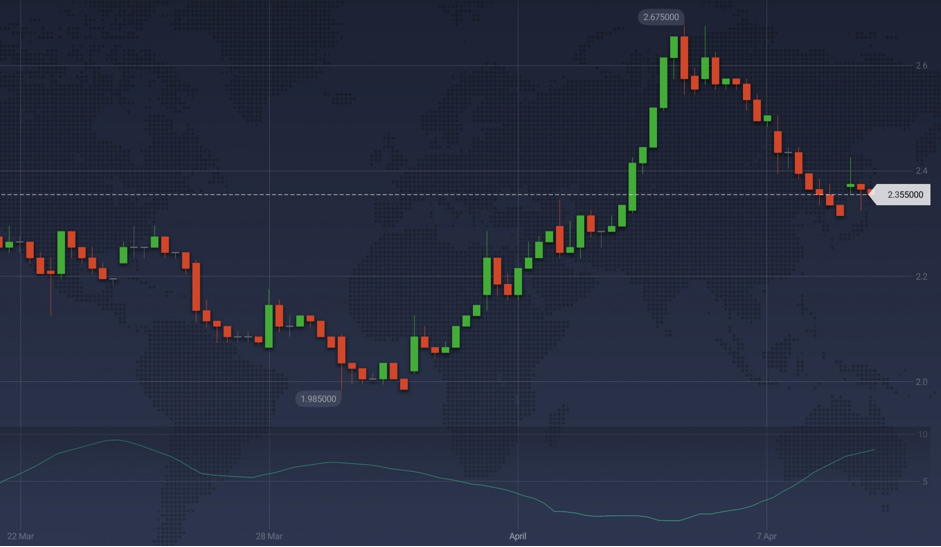 First of all, you may check entry and exit points from other indicators. Ulcer Index is not really good at determining entry and exit points as oscillator-type and trend-following indicators. Nevertheless, if you use it as a supportive tool, it may help you confirm or refuse signals sent by other indicators.
Secondly, Ulcer Index may help you choose the amount of time you better keep the position open. The longer the price of the asset is rising, the higher the downside risk. Here is what you may do: identify a specific level of risk that you think is acceptable and close the trade after it is reached. Keep in mind that you might spend some time finding the best boundary.
Remember, that no technical analysis indicator is able to give correct outcomes all the time and should not be used individually, it is better to use Ulcer Index as a secondary tool.
How to set up?
It is pretty simple to set up Ulcer Index, to do that follow these steps:
Click on the 'Indicators' button in the bottom left corner of the screen.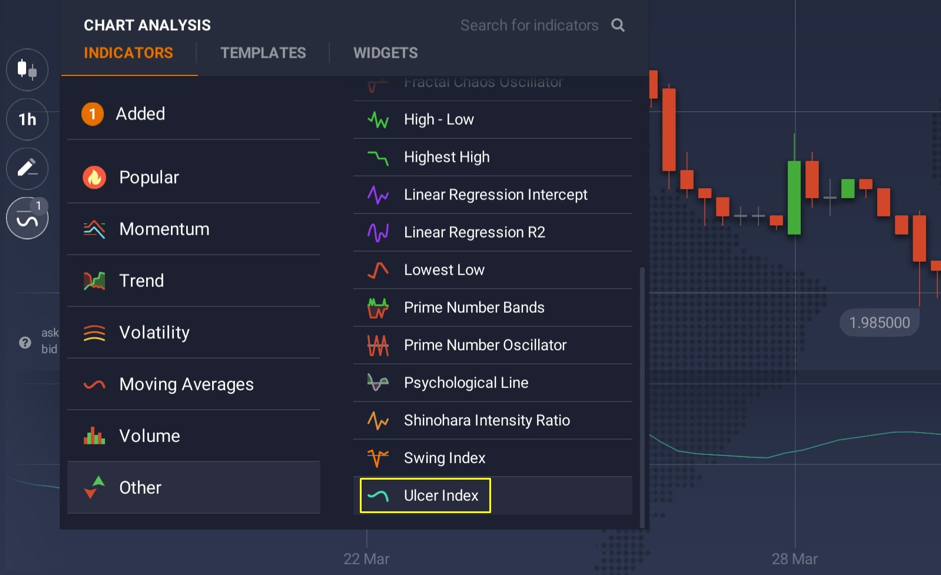 Go to the 'Other' tab and choose Ulcer Index in the list of available options.
Don't change the settings and click "Apply".
Now you may use the indicator!
Conclusion
Ulcer Index is an interesting indicator which may help you measure the risk. Ulcer Index may be a valuable addition to your trading system and you may use it together with indicators that are good at determining entry/exit points. Now that you know how it works and how to set it up, you may go to the trading platform and try it!
---