How to deposit money on IqOption?
Video F.A.Q. how make deposit on IqOption?
What is the minimum amount per deposit?
We want to make trading accessible to everyone, so the minimum deposit amount is $10 or 10 euro, depending on the account currency. You can open transactions on the platform starting at just $1 or 1 euro. Top up your account on the site
Video of deposit page on IqOption
Screenshot of deposit page on IqOption.com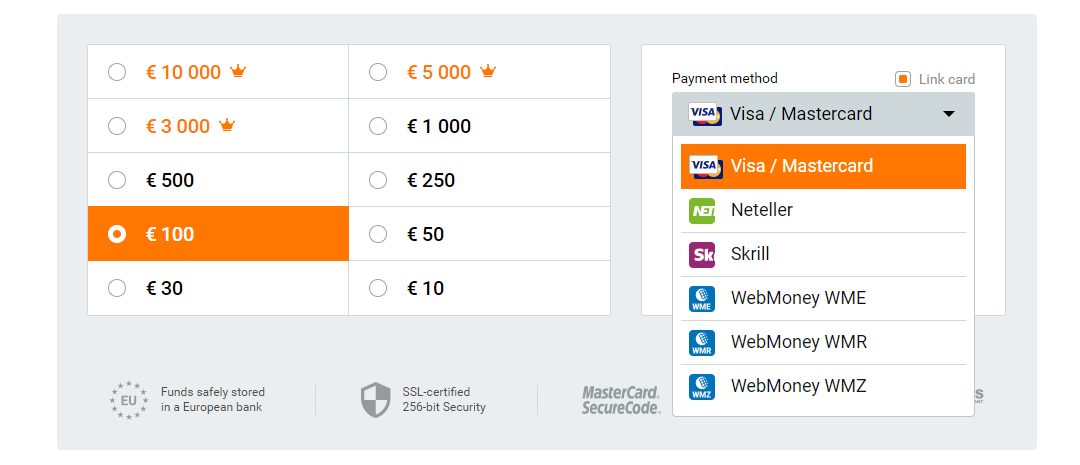 Is a commission taken on deposits and withdrawals on IqOptions?
We do not charge any fees or commissions for deposits and withdrawals using a bank card (Visa, MasterCard, or Maestro), WebMoney, Skrill, Moneybookers, Neteller, or other financial services. A commission is charged only for withdrawals via wire transfer to your bank account, because the bank takes a commission from us for sending the transfer.
What is the CVV or CVC code?
The CVV/CVC (Card Verification Code) is a three-digit code to authenticate your credit card for internet purchases and other kinds of operations. This code can be found on the reverse side of the card. It is the last 3 numbers shown next to your signature, and it is normally separated from the card number.
How can I unlink a bank card from IqOption?
To unlink a card you've added for instant payments, go to the deposit window on the platform and click "Payment Method". At the bottom of the drop-down list, click "Unlink card". This opens the deposit page on the site. Next to the payment method, which is the linked card by default, click the "Unlink card" button. Confirm this action, and your card will be removed from the list of payment methods. If you decide to use this card later to make a deposit, you will need to enter the card information again. Go to the page to remove the card
How do I deposit money on IqOption?
-Use your credit or debit card to deposit funds. Maestro, Mastercard, and Visa are accepted. You can also use a digital wallet like WebMoney, NETELLER, or Skill.
-Select your method of payment.
-There is a 10 USD/EUR/GBP minimal deposit.
-Most traders prefer to use digital wallets rather than bank cards because of the quick withdrawal process.
-Best of all, you won't incur any charges when withdrawing or depositing money.
What if my account's currency requires a change?
-The currency is set when the initial deposit is made.
-Your real trading account doesn't permit currency changes, so ensure you're using the right one before clicking 'Proceed to Payment.'
-Whatever method of deposit you use, the amount will automatically be converted to the currency of your choice.
Can I make a deposit with Bitcoin on IqOption?
-Bitcoin deposits are permitted.
-Bitcoin is an alternative form of payment.
-Bitcoin will be converted to whatever currency you selected on your real account.
How to make a Bitcoin deposit on IqOption
-On the deposit page, type in the amount to deposit and select Bitcoin as your method of payment.
-From there, you'll be sent to www.cubits.com. The website will generate an invoice (address) for you. This address should be used to send Bitcoin with your digital wallet.
-The deposit must be made within 15 minutes of this action. After this time limit expires, processing won't be performed properly, and the funds won't be sent to your IQ Option account. When this happens, you'll be sent an email informing you of this, along with a link to retry the process.
-A commission is subtracted from your account with every Blockchain (network) transaction you make. There is a 0.001 BTC minimum commission to prevent processing a transaction as spam. No matter the deposit, the commission is always a fixed amount.
Can I use a credit card to make a deposit on IqOption?
-IQ Option allows credit and debit card withdrawals and deposits. Credit cards accepted include Maestro, Mastercard, and Visa (note: Electron is not accepted). The valid card must be registered in your name and accommodate international transactions online.
Can use Paypal to make a deposit on Iqoption?
-While our developers endeavor to offer this option in the future, Paypal cannot be used for withdrawals or deposits.
How long will it take to receive my withdrawals from IqOption? And why are deposits must faster to process?
-Without your authorization, IQ Option is not allowed to send anything to your account.
-Ensure that a third party can't access your digital wallet or bank account.
-You may have more than one account on your site.
-Make sure you change your password in the 'Settings' section if you suspect someone has unauthorized access to your account.
Can my card be unlinked from IqOption?
-When you want to remove a card from your account, click 'Payment Method' in the platform's deposit window.
-Select 'Unlink Card' at the end the drop-down menu.
-You'll be transferred to the site's deposit section. Click 'Unlink Card' beside the payment method, which is the card automatically linked to.
-After you confirm this action, your card won't be seen in the 'Payment Method' list on your account.
-You'll need to re-enter the card's detailed again if you opt to use it to make a deposit in the future.
What is a CVV or CVC code?
-The CVC or CVV code is three digits on the back of your card. It acts as an approval or security factor when an online transaction is made. Here is an example of what it looks like:
What is 3DS?
-The 3-D Secure function is an extra step during the online transaction process. Your bank will send you a text asking you to confirm the transaction. Your bank must enable this on your behalf for it to be active.
I'm having issues making a deposit using my card
-If you make a deposit using your desktop or laptop, the transaction should process immediately. Clear your cookies and cache (aka the temporary internet files stored on your computer) on your browser. This can be done by pressing CONTROL/SHIFT/DELETE simultaneously. Select 'All' for the timeframe to clear. Your page should be different after refreshing the page. Visit this link for step-by-step instructions. Alternatively, try using another device or browser.
-If you type in an incorrect 3-D Secure code, your deposit may not be approved. Contact your bank if you don't receive a text message from them after a transaction. This could occur if the 'Country' field is not filled out in your contact details. When this happens, the system isn't sure what payment type to display since each country offers different payment methods. Simply retry after entering your residential country.
-If your bank enforces limits on international payments, they might decline your deposit. Find out where your bank stands on this by getting in touch with them directly.
-Alternatively, feel free to use a digital wallet to make a deposit. We accept WebMoney, NETELLER, and Skrill. There are no fees to register an account with any of them. You can fund your digital wallet with your bank card afterward.
I'm having issues making a deposit with Bitcoin.
-We can be of assistance if BTC was taken from your digital wallet yet didn't show up in your IQ Option account. Kindly take a screenshot of the transaction in question and send it to us. The transaction screenshot should be taken from either www.blockchain.info or www.blockexplorer.com.
-Contact us at support@iqoption.com and add the transaction code (which begins with TX). We'll have a look at the transaction on our end and email you a link that allows you to send your deposit amount back to your BTC wallet. You can retry the process from there.
-Be mindful that there is a 15-minute window you have after the invoice is created on Cubits.com.
Making a deposit with Boleto on IqOption
-In your IQ Option account, select the 'Deposit' button (in green).
-Chose the "Boleto" option (outlined in red) and type in the amount in the section with a blue outline.
-Continue by clicking the green button.
-Enter the CAPTCHA image shown so that your message isn't interpreted as spam.
-Ensure the Boleto window isn't blocked by your browser. If your browser displays this icon, new windows likely aren't opening up:
-You can expect processing to last as long as six business days. The longer-than-usual wait time is because IQ Option acts as an international organization. Most transactions are processed within three days, but in some circumstances, you'll be waiting slightly longer.
-If a substantial delay is happening, check the payment status by sending us proof of the Boleto transaction. Our email address is docs@iqoption.com.
I'm having issues using Boleto to make a deposit
-Retry the process after clearing your browser's cache and cookies. Here are the steps to take if you are not sure how to clear the cache in your browser.
-Using your computer's browser, select 'Deposit' once you're on the website.
-Enter all data and symbols by hand (do not cut/paste). For instance:
-Create a screenshot.
-Generate a ticket by clicking the link shown.
-If you get an error message, take a screenshot.
-Send an email to support@iqoption.com with the details you have.
Can I use FASAPAY to make a deposit on IqOptions?
-Unfortunately, making deposits with FasaPay is not an option at this time. We encourage you to use alternative payment options such as WebMoney, NETELLER, or Skrill. We appreciate your understanding in this matter and apologize for any inconvenience.
I'm having issues using NETELLER to make a deposit on IqOptions
-Many traders have experienced issues with NETELLER as of late. The situation originated after the administrators at NETELLER tried to organize their wallet into several accounts. Their intent was to give account holders the option to store money to buy products, make payments online, and other convenient reasons. NETELLER categorized our company under 'Gaming Purposes' (though we're not sure why). As a result, to carry out a transfer on our platform, you'll need to have funds in your NETELLER 'Gaming Account'. Try using NETELLER to send funds and use your gaming account to make a deposit. Your transaction should be completed without issues using this approach.
-Be mindful that IQ Option has no association with the gaming industry. We are in touch with NETELLER to fix this problem. The goal is to move IQ Option under another payment category.
-If an incorrect security code is entered, your deposit may not go through. When this occurs, you must obtain the code from your account on NETELLER (as you can see in this screenshot). You'll be emailed a new code that will be active for 24 hours. Your payment should be successful after you enter the new security code and your NETELLER email address.
I live in Brazil. Neither NETELLER nor Skrill will allow me to make a deposit on IqOptions.
-At this time, NETELLER and Skrill are not available in Brazil. We'll be adding alternative methods of payment in the future for residents in Brazil.
If you ready open IqOptions account please fill this form: