General questions about IQOPTION
You can begin trading using a platform called IQ Option. The following tools are at your disposal on the platform:
- CFDs on currency pairs
- CFDs on commodities
- CFDs on stocks
- CFDs on ETFs
- CFDs on Cryptocurrencies
- Cryptocurrencies
- Options (Note: Digital and Binary Options are exclusive to professional clients)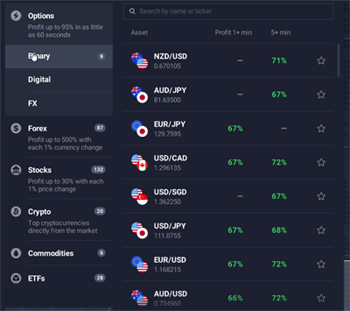 You can practice with a demo account before taking the plunge with actual funds. Learn to make practical trades with our technical analysis indicators and graphics tools.
How much revenue can I earn with IqOption?
Patience and skills determine your success, along with the trading approach you're using, and your investment amount. To learn how to make calculated transactions, watch our trading videos. Newcomers to trading can practice with the demo account. Regular traders can use the demo account to hone their skills.
How much revenue can I earn using the IqOptions demo account?
The demo account won't reward you with anything monetary if you are successful with your transactions. You'll be making virtual transactions and get virtually paid. The demo account is used solely to train. You can trade with real funds after making a deposit into your real account.
Can I go back and forth between the real and practice IqOptions accounts?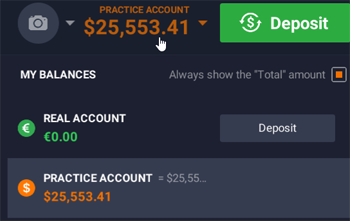 Yes. In the upper right corner, you can check your account's balance, as well as go back and forth between the demo account and your real one. Ensure you are in the trade room. All of your accounts will be shown in this panel, including your real account, the demo account, and tournament accounts you're engaging in. To activate your account for trading purposes, click the link shown in the panel.
Are Android, iOS, and PC apps available for IQOPTION?
The platform has a quicker response time on the Ubuntu, Mac OS and Windows apps for desktop and laptop computers. The website platform can do the same things the apps do, but updates to chart movements aren't as quick. The website doesn't have access to WebGL capabilities, which optimizes the PC's video card resources. There are no such restrictions on the apps, and the charts are updated in real time. Android and iOS apps are also an option, all of which can be found in our Downloads section. If your device is not able to download an app, the IQ Option website is your only platform to trade on.
How can the IqOptions demo account be topped up?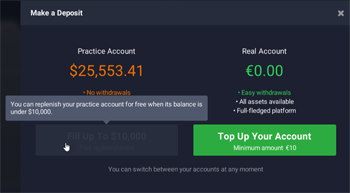 If your balance goes under $10,000, your demo account can be topped up at no charge. To start, the demo account must be selected. In the upper-right corner you'll see the deposit button with a couple of green arrows. After clicking it, select the account to top up: the real one or the demo.
About IqOptions volatility
The fluctuation of prices is known as volatility. When volatility is low, modifications aren't of consequence. Also, the asset may expire at the very level the position was opened on. Things tend to change fast when volatility is high, though.
Can I sign up for an IqOptions affiliate program?

Those who regularly recruit traders can take advantage of our affiliate program. You'll be able to make some extra money if you are a website owner or professional. The site affiliate.iqoption.com is where you can sign up for the affiliate program. This dashboard is distinct from the trading platform. On this dashboard, you can create links to promotional materials, find useful tools, read statistics, and other helpful features. Contact our customer support team if you want more information about our affiliate program.
About the IqOptions Affiliate CPA program?
Professional marketers and media buyers can take part in our IQ Option CPA affiliate program. You'll be able to make some extra money if you fit our quality requirements. More details are available here, or you can send a message to cpa@iqoption.com for any inquiries.
Can clients be called?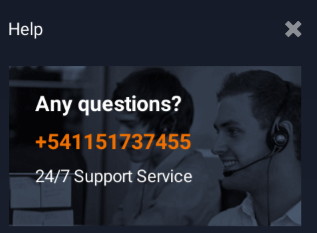 Traders don't make outgoing calls as per company policy. Exceptions are made for the Welcome Calls, which are made by our Fresh Team after the trader makes their initial deposit.
Feel free to get in touch with us using the following methods:
1) Send message to email.
2) Give a call at:
+6531637458 Singapore
+556135500638 Brazil
+33184887636 Algeria, Lebanon
+78003334755 Russia
+27875502161 Angola, Botswana, Madagascar, Mozambique, Namibia, South Africa, Zambia, Zimbabwe
+61261452936 Australia, Malaysia, New Zealand
+6621040795 Thailand
+541151737455 Argentina
+558008783257 Brazil
+910008000401361 India
+578007550167 Colombia
+56442045012 Chile
+5218002889985 Mexico
3) Use the platform's Live Chat.
Loan trading on Iqoption
Loans for the purposes of trading is not something offered by this organization.
Is IqOption legal in India?
The Indian legislation (which includes The Foreign Exchange Management Act of 1999) allows trading. Indian regulators don't regulate organizations situated in India since trading operations occur outside of the country. As far as we know, India hasn't banned any international businesses. No laws will be broken when you trade with us.
Is there a maximum and minimum investment amount for IqOption trading?
The maximum investment is $20,000, while the minimum is $1. Keep in mind that market conditions influence the maximum amount for several assets.
If you ready open IqOption account please fill this form: