What is IqOption OTN tokens? Where to buy os sell? How get OTN coins?
What is Open Trading Network?
Open Trading Network (OTN) is a new platform created to unite all isolated blockchain market participants and networks. It aim is to create a global cross-chain market that is accessible where everyone is empowered and connected.
A non-commercial independent organization, OTN Foundation, was created in partnership with IQ Option. The broker supports the project financially and technically, and will ensure its further growth.
While the blockchain is still being development, OTN releases Ethereum ERC20 standard tokens. These can be exchanged for OTN coins at a one to one ratio later.
How can OTN tokens be used?
OTN tokens can be used in several ways:
- Convert OTN tokens to OTN coins once the Open Trading Network has been launched.
- Use OTN tokens on the IQ Option Platform to pay commissions on Crypto instruments.
- Tokens can be withdrawn until their price increases.
How can OTN tokens be withdrawn?
OTN token is based on Ethereum. This means that OTN tokens can be withdrawn to a crypto wallet that supports Ethereum's ERC20 standard tokens.
Copies of documents need to be uploaded in color if these have not been attached previously. The verification procedure must be completed by uploading a photo of your ID. Please let us know if you require more information on documents that need to be provided. We are more than willing to help.
Once the account has been verified, withdraw OTN tokens by:
1) Opening the OTN tab and clicking on WITHDRAW.
2) Entering the amount of tokens to be withdrawn and the address of the Ethereum wallet to which they need to be sent.
3) Waiting until the request has been processed. Once the tokens have been accepted, the transaction details will be shown at the bottom of the page.
What should I do if I cant withdraw OTN tokens?
1) Note that the minimum amount that can be withdrawn is 10 OTN.
2) Check that you are verified. To verify your identity, you must:
-Upload color copies of the documents if this was not done previously. Upload a photo of your ID to complete the verification process.
-If a bank card was previously used to top up your balance, send a color photo of the card to docs@iqoption.com or kyc@iqoption.com. The image must only show the first 6 and the last 4 digits of the card number. Ensure that the card is signed.
What should I do if OTN was sent to my wallet, but they did not arrive?
If your OTN tokens don't appear in a wallet, follow these steps:
The OTN token type is known as ERC20. If your wallet does not accept this type, the transfer will not be shown, even if successful. To review the transfer in this case, use this service.
Enter the ID of the wallet to which the OTN was sent (the same ID that was used on the withdrawal request on the platform) and check the data in the section called Token transfers.
The tokens can be recovered by creating the portfolio with MyEtherWallet with a minimum amount in the wallet.
The private key from the portfolio is needed to transfer the tokens manually.
Once the private key has been obtained, open https://www.myetherwallet.com and follow these steps:
1. Click on Send Ether & Tokens.
2. Select the Private Key option and enter the password. Click on Unlock. We recommend you delete the key after using it for security reasons.
3. The section Token Balances can be found in the lower right corner of the next page. Click on 'Show all tokens' and wait between 1 and 3 minutes while MyEtherWallet finds the OTNs.
If these do not appear, add them manually by clicking on "Add custom token".
4. To add tokens, the technical information of the Smart Contract is required. Insert the following:
Contract address: 0x881ef48211982d01e2cb7092c915e647cd40d85c
Token symbol: OTN
Decimals: 18
Click on "Save".
5. That should add the tokens to the balance. You should now be able to see your OTN in the MyEtherWallet portfolio.
Although it may seem difficult, it's very quick and easy to do.
Where can i get IqOptions OTN Tokens?
You have two ways:
1. Buy it or sell for crypto Exchange websites. We recommend open account on the LiveCoin: LiveCoin Registration - click here
2. Mine it on IqOption.com - mine them by trading crypto assets on the IQ Option platform directly from broker.
How to buy OTN tokens?
Here few simple steps. First of all you need register an account on the crypto exchange, for example on the Livecoin, Cryptopia or Yobit. We recommend open account on the Livecoin crypto exchange: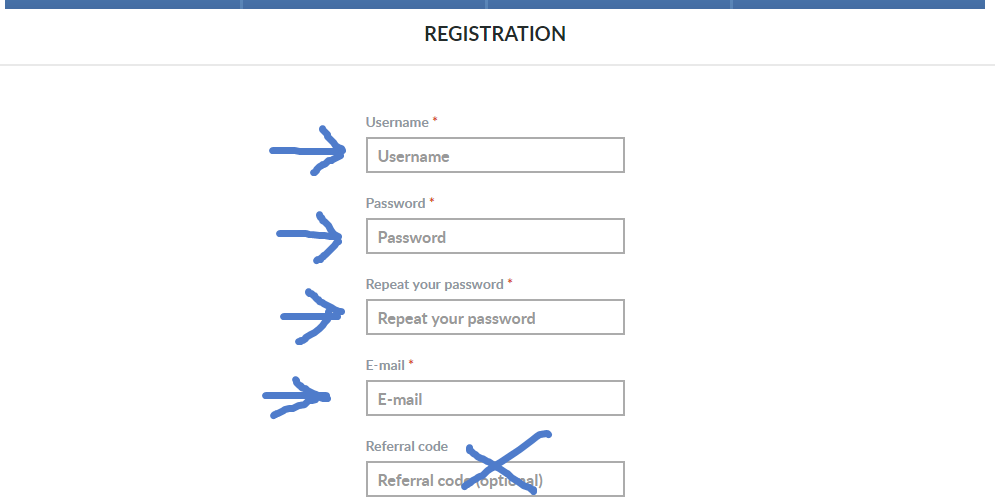 After registration you can deposit money in USD, EUR or RUR. For the deposit you can use payment methods: Capitalist, Okpay, Perfect Money, Payeer, Bank Transfer, Advcash:

Also you can deposit by any crypto currency that you have for example you can use Bitcoin for deposit:

After deposit you can buy or echange to OTN tokens: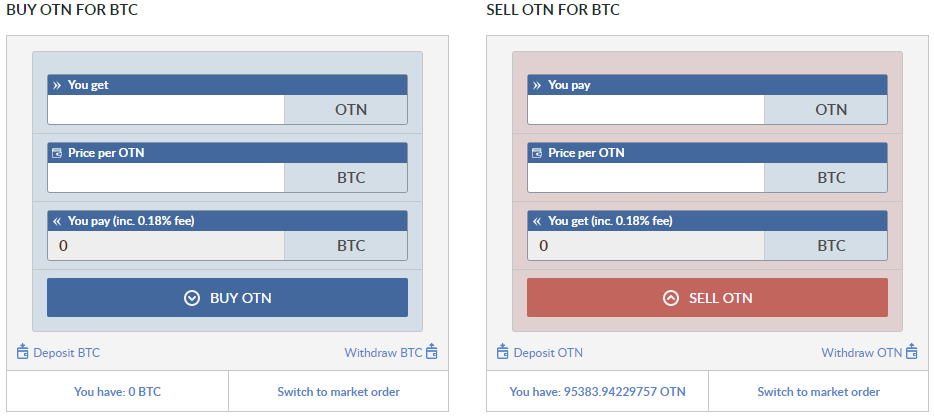 As soon as you decide sell it you can do it any time you want directly from the crypto exchange.
OTN tokens Roadmap
2017 october - distribution of OTN tokens among traders. Accept tokens on the brokers.
2018 february - OTN wallet launching with support up to 7 cryptocurrencies.
2018 april - OTN tokens can be traded with connection to brokers partners. Access via OTN wallet.
2018 september - Launching of the multi chain technology OTN.x
2018 october - OTN depositary allow connect to OTN network
2018 november - OTN clearing include implementation of tools for regulators
2019 february - OTN business allow integration of payments through the wallet.
2019 april - OTN integration include new partner tools. Interface to connect matching engines and centralized exchanges.
After the Open Trading Network launch you will be able to exchange OTN tokens to OTN coins. Exchange ratio will be same 1:1.
Official info from the OTN telegram channel:
The real address of the OTN smart contract in the Ethereum network is: 0x881ef48211982d01e2cb7092c915e647cd40d85c
OTN FAQ
*What is OTN?*
Open Trading Network is the first 100% collateralized decentralized exchange which will allow fully secure exchange between the blockchain networks.
Three major categories of people can be expected to benefit from the OTN:
- individuals
- businesses
- traders.
Each of them will have a solution tailored to their needs: multi-currency wallet, tokenization, decentralized exchange with 100% collateralized cross-chain transactions, ready-made business solutions.
To learn more, please visit our website: https://otn.org/
*How to get OTN?*
At the moment you can get OTN in two ways:
1) Buy OTN on Livecoin.net, Cryptopia, Yobit ;
2) Trade crypto on IQ Option platform and get OTN as a reward each Monday more here https://goo.gl/43qC4Z ;
*How much is OTN now?*
https://coinmarketcap.com/currencies/open-trading-network/
*How to withdraw OTN tokens from IQ Option?*
Please see here https://goo.gl/KiuNSu
Official Website: https://otn.org/
These Links maybe useful for you if you want mine or buy/sell OTN tokens or coins.
OTN Website: https://otn.org/
OTN Medium: https://medium.com/@otncoin
OTN Twitter: https://twitter.com/otncoin
OTN Facebook: https://www.facebook.com/OpenTradingNetwork/
OTN Bitcointalk: https://bitcointalk.org/index.php?topic=2225134.0
OTN GitHub: https://github.com/OpenTradingNetworkFoundation/otn-token
OTN Reddit: https://www.reddit.com/r/Open_Trading_Network/
OTN Telegram channel: https://t.me/OTNgroup
If you ready open IqOption account please fill this form: